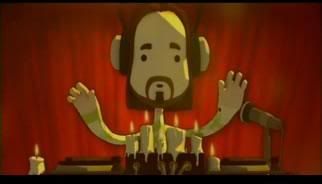 Yes, it's finally happened.
Lucy, Daughter of the Devil
[
LDotD Wiki
] returns to Cartoon Network!
It's on tonight (technically Monday morning) at 12:15am. Set the DVR. Or stay up late, you jobless saps on our economy (jealous much).
Either way, as Cartoon Network says on the
Adult Swim
site, "Watch it right now or we'll take it away again."
Check out the pilot. It is worth every second:
[
Alternative YouTube Link
]
And then watch it tonight.
UPDATE: As expected, it was fucking brilliant!