Note: All images pulled from CNN video
In the past couple days, President Bush has toured the Middle East, beginning with the first time in 7 years as a president that he's ever been to Israel. Personally, I wouldn't count that as genuine concern, but when you're drumming up
support for the invasion of Iran
, you've gotta take the big boy pill and cross the pond.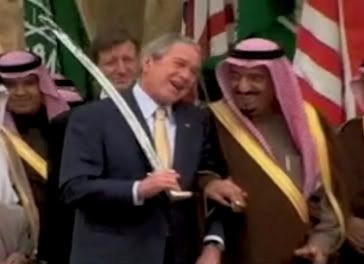 Luckily, Bush made it to Saudi Arabia, where he was promptly given a saber to properly rattle. Doesn't this look like an action shot from a community theatre production of Lawrence of Arabia: The Musical?
Bush also gets a "Special Person's Robe," and he's so proud of himself, walking down the aisle like on graduation. Incidentally, that is the definition of "shit-eating grin."
There was quite a lot of hand-holding through the discussion process; kisses were in private. And often.
UPDATE
: Told you. Caught in that final, tingling, anticipatory second. Mmmm.
Nothing like losing yourself in some tea post-coitus...
...and seeing what "hung like a horse" is supposed to mean.
All in all, it looks like it was a successful trip. The President just hopes that Abdullah will call, or else it's...
...you know.