Yesterday, if you missed it, brought us news of Ashley Todd, originally from Texas, who was volunteering for McCain in Pittsburgh. Something about getting money from an ATM, a 6'4" black man, her McCain bumper sticker, him taking her money and carving a B on her face for "Barack" and I guess he grabbed her tit too.
This is Ashley Todd after the "incident:"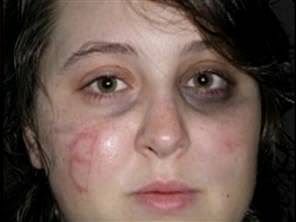 As soon as I heard this story, my initial reaction was
Fuckin' morons on both sides
. And then, after about 30 seconds of stewing:
This is a total hoax
.
First off, if you have not noticed, Ashley's B is backwards, as though she scratched up her face in the mirror without the requisite intelligence pertaining to the magical properties of mirrors. And why "B" when "O" is the graphic symbol associated with Obama and his campaign?
Then the police noted she was inconsistent in her story. Then they noticed she was absent from the ATM security tape. Then they gave her a polygraph test.
AP
, you're up:
PITTSBURGH (AP) — Pittsburgh police say a McCain campaign volunteer made up a story of being robbed, pinned to the ground and having the letter "B" scratched on her face in a politically inspired attack.

Maurita Bryant, the assistant chief of the police department's investigations division, says 20-year-old Ashley Todd is being charged with making a false report to police.

Todd, of College Station, Texas, initially said a black man robbed her at knifepoint Wednesday night and then cut her cheek after seeing a McCain sticker on her car.
Because the McCain camp needs a little more negative press about race. Schadenfreude is yummy.