Last night I attended the Take a Stand Town Hall Meeting to end the Iraq War over in Oakley.
Over 300 people showed up
! Rep. Jean Schmidt and members of the press were not in attendance. Here's some pictures and information about the event and the speakers.
Get active! Get involved! (My letter to the media is at the end.)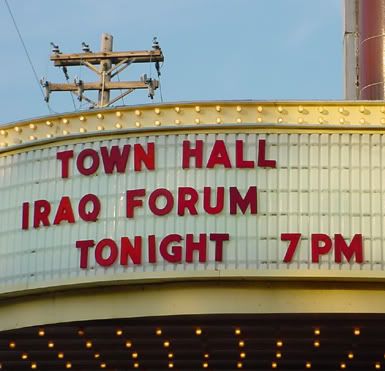 Town Hall Meeting in Oakley - Iraq Forum
Some remained outside to raise awareness
This woman's sign is, sadly, different today
An overview of the event
Lining up and signing up: getting involved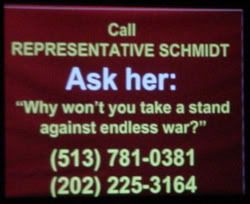 Prominent message of the rally
(indoor lighting was poor, camera not up to task)
Connie Pillich was the MC and is a veteran
Councilman David Crowley, veteran, is a strong supporter of our troops and strong dissenter of the war - yes, you can be both - representing the political side from the point of view of City Council
Marty Webster put the fire of protest and outrage in our bellies, representing Vietnam Veterans Against the War as a founding member
Thor Jacobs came with enough political science to pull every troop out of Iraq for the betterment of the U.S. and the world - now we must spread that word
Sister Alice Gerderman, with Catholics against the war, added a realistic, humanistic, spiritual end to the speakers last night, speaking of what is in our hearts and how our leaders have strayed from the truth
Over 300 people attended
That's right, over 300 people
It was amazing to have so many people united in one place to support our troops and to end the war. It showed me the evolving face of concern that the Iraq war is taking on, and the humanism behind the eyes of the movement. And then there's that spirit, that fire that's beginning to smolder. Again, I say: get active. Get involved.
There were no members of the media present and Rep. Jean Schmidt was MIA, to turn a phrase. For that reason, this is my letter to
The Cincinnati Enquirer
,
The Cincinnati Post
,
Local 12 WKRC
,
ABC-9 WCPO
,
FOX-19 WXIX
,
5-NBC WLWT
, and (slightly edited for)
Rep. Jean Schmidt
:
Yesterday evening, August 28, 2007, I attended the Take a Stand Town Hall Meeting to Stop the Iraq War. I - and over 300 other people - felt it important enough to give up an evening to discuss and become inspired about how our country, the United States of America, is wasting millions of dollars daily in a war that will not be won by force, but has cost over 3,700 American and countless Iraqi civilian lives. We gathered to discuss options on further protest, political and diplomatic perspectives, the lessons of the past, and to voice our disapproval about how a not-so-newly elected Democratic congress has failed to act on the one issue that mattered most when Americans made their decision in that ballot box last November: ending the Iraq War.

While the media and our elected officials were alerted to this Town Hall Meeting, Rep. Jean Schmidt and members of the Cincinnati media were conspicuously absent. My question to you is: when will it matter; when will it become news? At the last event I attended, only a dozen or so others were able to commit time during the day to show up, and I was disappointed then to see no media there. Last night there were over 300 people gathered to discuss the most important issue facing our country today, and the media took a pass. When will it become news? We are growing, becoming impassioned, drawing our friends and family into this circle of concern about the Bush administration's bumbling record and the congressional rubber stamp that is leading America down a road of ruin. We will continue to gather; we will continue to write letters; we will continue make phone calls until we can be ignored no longer. But when will it become news? When we're 3,000 strong in Cincinnati? When our government has allowed 5,000 American soldiers to perish overseas? When will you decide our country is important enough to simply show up?