So I picked up this picture over at
Failblog's Ugliest Tattoos page
(as a win, of course). It's a few years old, but got a fantastic response. So I wondered: wouldn't there be more images of this tattooed wonderousness elsewhere on the internets?
And, of course, said pictures do exist.
(Other sidenote: the script on her side is the lyrics to Matthew Good's "
Waiting for the Destruction
" and runs all the way down to her calf.)
So after a little detective-ing, I was able to dig up something salacious. I think here is where I meet but do not cross the obscenity line with a carefully-cropped close-up: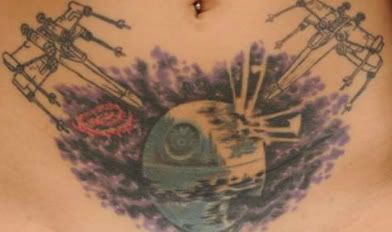 And if you like that line and feel the temptation to cross it, I shall provide the tools but will not give you direct gratification from this blog post - that wouldn't be fair as some people read me at work - or maybe I just hope people read me at work.
Either way, if you'd like to cross that line and see more of this woman's tattoos in a semi-tasteful but not really safe for work version (naked but strategically posed to hide ladyparts),
then you can do so here
.
Now, if you'd like to Kessel Run past that line in less than two parsecs, you can do so with the following image.
Warning: TOTALLY NSFW
.
_____
Genuine question: Was that too stalker-y? Too pornographic? I ran it because I was genuinely interested in what other cool, nerdy tattoos this woman had - and they are pretty awesome. Did I go too far and fly right past tasteful and reasonable? I'd like to know what y'all think; I generally don't talk about or link to naked images on the internets even if they are geeky, nerdy, and lovely. To the comments!