I must apologize for the intermittent transmissions from last week and those coming. I am in the process of moving to Cincinnati.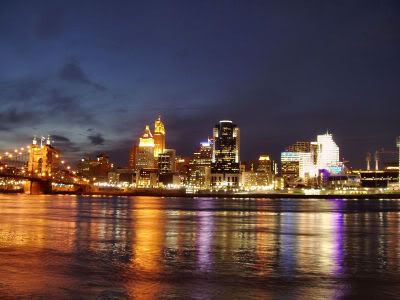 Yay, Cincinnati! Home of the Reds, Bengals, and the
2001 Race Riots
!
Can we get a
Wiki
?
Cincinnati was founded in 1788 by John Cleves Symmes and Colonel Robert Patterson. Surveyor John Filson (also the author of The Adventures of Colonel Daniel Boone) named it "Losantiville" from four terms, each of different language, meaning "The city opposite the mouth of the Licking River." "Ville" is French for "city," "anti" is Greek for "opposite," "os" is Latin for "mouth," and "L" was all that was included of "Licking River."
John Filson was a fucking showoff and trying way too hard.
In 1790, Arthur St. Clair, the governor of the Northwest Territory, changed the name of the settlement to "Cincinnati" in honor of the Society of the Cincinnati, of which he was a member.[5] The society honored General George Washington, who was considered a latter day Cincinnatus—the Roman general who saved his city, then retired from power to his farm.
Much better.
But more importantly than all the historical or meaningful crap, we something up there that we don't have down here:
Sweet Mercy
...and:
Notice Frank Bonner's own brand of the Shocker
I do, however, believe the biggest upside to moving to Cincinnati will be my ability to have more impact and a stronger voice in the crucial state of Ohio in the 2008 election. Expect more activity and activism as a result of the move.
I will, of course, still be here. Just a little less often for the next couple weeks.
And don't forget that if you're into the blog, subscribe! It's the funny-lookin' orange thingies on the right. Cheers!