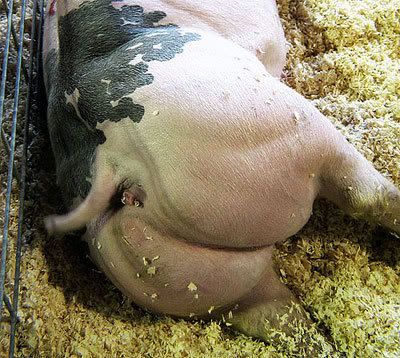 Rush Limbaugh, against whom I regularly rail, is at it again. Or was. Last Tuesday,
I caught this little diatribe
:
Senator Bob Casey from Pennsylvania, who I charitably will say is an order of fries short of a Happy Meal, is sitting there reading a letter from a constituent to Bernanke, the chairman of the Federal Reserve, and anybody else watching on television in the room, and he summed it up here in one sentence.

The letter was from Tammy May

, not Fannie Mae, not Freddie Mac, Tammy May,

a single mother of two living in Pennsylvania

. This is what he read of her letter to him:

"We have to reprioritize. House comes first, then day care, then gasoline, then food." This constituent of Bob Casey's put food last on her list of new priorities.

Bob Casey reads this, and obviously what he's trying to do here is milk what's going on out there as a national disaster.

What does he fail to mention? She has a job. This is not an unemployed woman. This is a woman who has a job, but she can't figure out how to live her life on her own so she needs Senator Casey and the Democrats to figure it out for her. Well, she's figured it out, but she wants them to make her do it, which is even sadder, when you get right down to it. When you prioritize things, just think about this. If you were going to write Senator Bob Casey a letter and tell him that we need to reprioritize things in life,

where would you put food

?
Rush continued to laugh at a woman who's obviously not only poor but too stupid to know what order things come in.
But Rush Limbaugh, sweating about his gold-thread codpiece, is a bit blind to the way the world works. So here it is for you, Rush, you ignorant slut:
House - If you don't have a house, you don't have shelter, or an address. Without an address it is relatively difficult to get a job of any sort, which you so graciously point out as though it were a big deal that Tammy May is not unemployed.
Day care - Unlike the nanny that you have keeping an eye on the 11 year old male prostitute from the Dominican Republic, real people need to find real solutions to avoid negligence of children. If Tammy May wants to hold a 9-5 job, she needs to pay someone, probably a good piece of her income, to watch her children while she works.
Gas - Although it doesn't affect you, dick, gas is a very real issue for real people. If Tammy May can't afford or continue to afford to purchase gas, she cannot drive her kids to day care, cannot drive to her job, and will lose one, perhaps eventually both because she cannot afford...
Food - 1, 2, and 3 are necessities to keeping a roof over her head and a job. Without those things, food is moot.
Rush, you foul your mouth and get worked up about the welfare state and here we have a prime example of a woman, busting her ass, playing by the rules, stretched and writing a letter to her representative to say "hey, just so you're aware, it's fucking tough out here." And Rush laughs, because he's ignorant and he's an asshole. If there was one single example of the character he lacks, this is it.