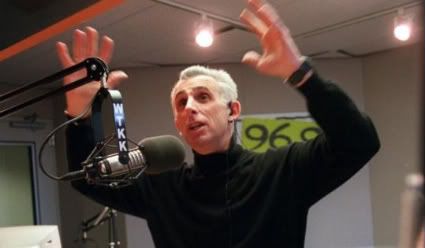 Hey, guess what
?
Jay Severin, the fiery right wing talk show host on Boston's WTKK-FM radio station, was suspended yesterday after calling Mexican immigrants "criminaliens," "primitives," "leeches," and exporters of "women with mustaches and VD," among other incendiary comments.
I guess he missed "lazy." Oh, sorry, that's black people. (that was a joke, folks)
It is people like this - and the fact that they keep showing up (or cracking their shimmery outer crust) - that detracts from ANY argument that minorities should be on the side of conservatives or Republicans.
And who says shit like that except raging, seething racists? Oh, and while I realize conservatives read this blog, please refrain from telling me "he's just racist against Mexicans." I've heard that argument before and it's a complete retardation of thought, like saying "That guy's just a pedophile for blondes." (No, I am not calling Severin a pedophile.)
Very high-end Republicans with NO record of bigotry need to stand up and repudiate stuff like this. Although the former end of the last sentence may leave a VERY small pool. Ah, well. Good on us liberals then.
___________
UPDATE:
Rep. Steve King calls Black and Hispanic Congressional Caucuses "separatist groups"
and House Minority Leader
John Boehner (R-OH) released a fearmongering video
juxtaposing Chavez and the Congressional Hispanic Caucus.