I thought I had this great idea: look up the word "sexy" on Google Image Search and see if I can find something not sexy. Easy enough, right? Surprisingly not. The survey says: 75% scantily clad women, 20% animated scantily clad women, 1% lady robots, 2% meathead guidos, 1% Dane Cook, and 1% something like this:
And the only reason that showed up was because the pic was named "sexy1.jpg" Terrifying.
Oh, and what else is sexy? This is: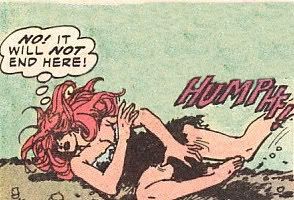 It's a photoshop of a comic cell that
Monkey posted a little back
. Click his link to see the original. Sexier with or without the monster?
Either way, I believe this will NOT be a regular feature. It took 20 pages of search results with a "break" in the middle to make this post.
But fear not, always new and interesting things from the internets.
(Yes, it was a lady robot break.)