Yesterday I was tooling around with some of the stats from my other clients and I thought I'd take a look at the numbers for this little corner of the blogosphere and - Holy Shit! - I've been getting between 200 and 400 visits a day. WTF?
Some Statties
Top referring Keywords:
naked (5.69%)
julianna rose mauriello (3.43%)
olivia munn maxim (3.43%)
shake weight for men (3.20%)
glenn beck is a douchebag (2.73%)
Shows you what kind of party I'm throwing. Although I tend to speak politics quite a bit, so perhaps it's a better representation of the people on the internets.
For those of you who don't know, Juliana is the pink-haired leading lady on a kids' show called Lazytown. She is a very attractive young lady and
in May she turned 18
, which makes that previous sentence slightly less creepy. Olivia is the female host of Attack of the Show on G4 and I once
pitted her up against Morgan Webb
- with mixed reviews.
Shake Weight
is always a party pleaser. And
Glenn Beck is always a tremendous douchebag
.
But #1 keyword is naked? You dirty birds.
The fun part about the internet and search engine mechanics is that by me posting about posts and linking the right text to my own blog - even from my own blog - it alters the numbers in the aether and may bring even more traffic, kind of like if I went back in time to my sophomore year in college and told myself to grow a pair and just pounce on K. on our first date she might not have later broken up with me because I didn't pounce on her on our first date. Okay, maybe not anything like that. Sorry. My soft-spoken college days sometimes haunt me.
But enough about me. Who wants more numbers!?
(last 30 days)
8,557 Visits
10,746 Pageviews
80.88% Bounce Rate (meaning they entered and left on the same page)
00:00:21 Average time on a page (yes, that's seconds)
And an interesting note: a full 25% of my traffic comes from Google Image Searches that lead to my page. Images are important! In fact, here's one apropos of absolutely nothing, an old favorite of my own making: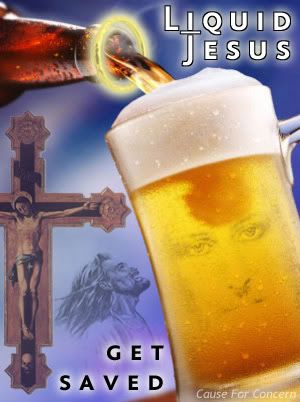 Liquid Jesus Beer
So overall, good numbers. Crazy numbers. And certainly tells me that I've got to focus on offering more to you good people, especially my regulars, on a ...well, regular basis. Even if I'm busy. So hopefully I'll get a couple more catch-up posts out today, some tomorrow, and my goal: To post 5x a week at minimum. Let's see if I can keep up.
Keep reading, keep commenting, even if you're here for non-existent naked pics :)