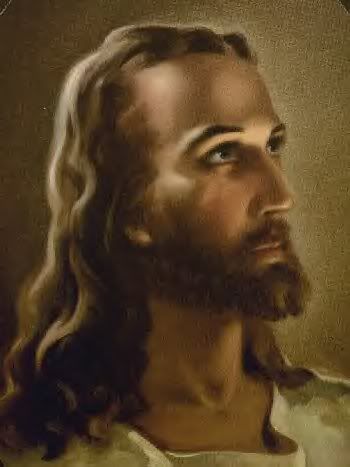 I swear my grandparents had this print in their apartment
Primarily, Catholicism is an absurd anachronism, a bloated, dying whale, flailing on the beach, an organization that promises the way to God but is, in fact, deterrent in its nature by the inherent structure of hoops and hypocrisy.
Let's look at South Carolina today
:
A South Carolina Roman Catholic priest has told his parishioners that they should refrain from receiving Holy Communion if they voted for Barack Obama because the Democratic president-elect supports abortion, and supporting him "constitutes material cooperation with intrinsic evil."

The Rev. Jay Scott Newman said in a letter distributed Sunday to parishioners at St. Mary's Catholic Church in Greenville that they are putting their souls at risk if they take Holy Communion before doing penance for their vote.

"Our nation has chosen for its chief executive the most radical pro-abortion politician ever to serve in the United States Senate or to run for president," Newman wrote, referring to Obama by his full name, including his middle name of Hussein.
What a fucking douche.
This priest is saying that if you support a guy who has an idea that is against the human-fabricated doctrine of the church, then you're just as bad as him.
Lest we forget that Jesus congregated with liars and thieves. His mission was one of love and compassion, not of structure and pomp, circumstance and silk robes. The Catholic church is running a show where very few take seriously their stance on birth control, many support the pro-choice movement, and just about everyone wonders why the phallocentric mastery doesn't whither a little and allow women to be priests. The last pope invoked infallibility, basically saying that God doesn't want women to be priests.
The Catholic church has lost Jesus, and God only lives in the churches because God lives everywhere. If God could put a sign on the Vatican, it would read: "Under Old Management - Salvation now found elsewhere."